Final Four Poker Challenge

Starting Monday April 1st, you'll have a chance to join in the excitement leading up to Final Four weekend with our latest poker tournament.
Bovada's Final Four Poker Challenge offers a fun-filled week geared towards the main event on Friday, April 5th, where every tournament that evening has a guaranteed payout of $4,444.
You can take part in $4 turbo qualifiers Monday through Thursday this week. If you're one of the winning players in those qualifiers, you'll automatically receive a tournament ticket to the Final Four Poker Challenge on Friday evening, April 5th – the Final Four "teams" will appear in four tournaments, at 8:04PM EST and 8:44PM EST.
And if you're not interested in the taking the qualifier route, you can also buy-in directly to the main event for $44 + $4.
Here's a summary of how it works:
Join one of numerous $4 turbo qualifiers running from April 1-4 to earn a main event tournament ticket.
On Friday, April 5 use your qualifier ticket (or buy-in directly for $44) to enter one of four Main Event tourneys, each named after a team in the Final Four.
If the team your tourney is named after wins the National Champion, everyone registered in that tourney will double their winnings. So be sure to pick the team that you think will win it all on the court.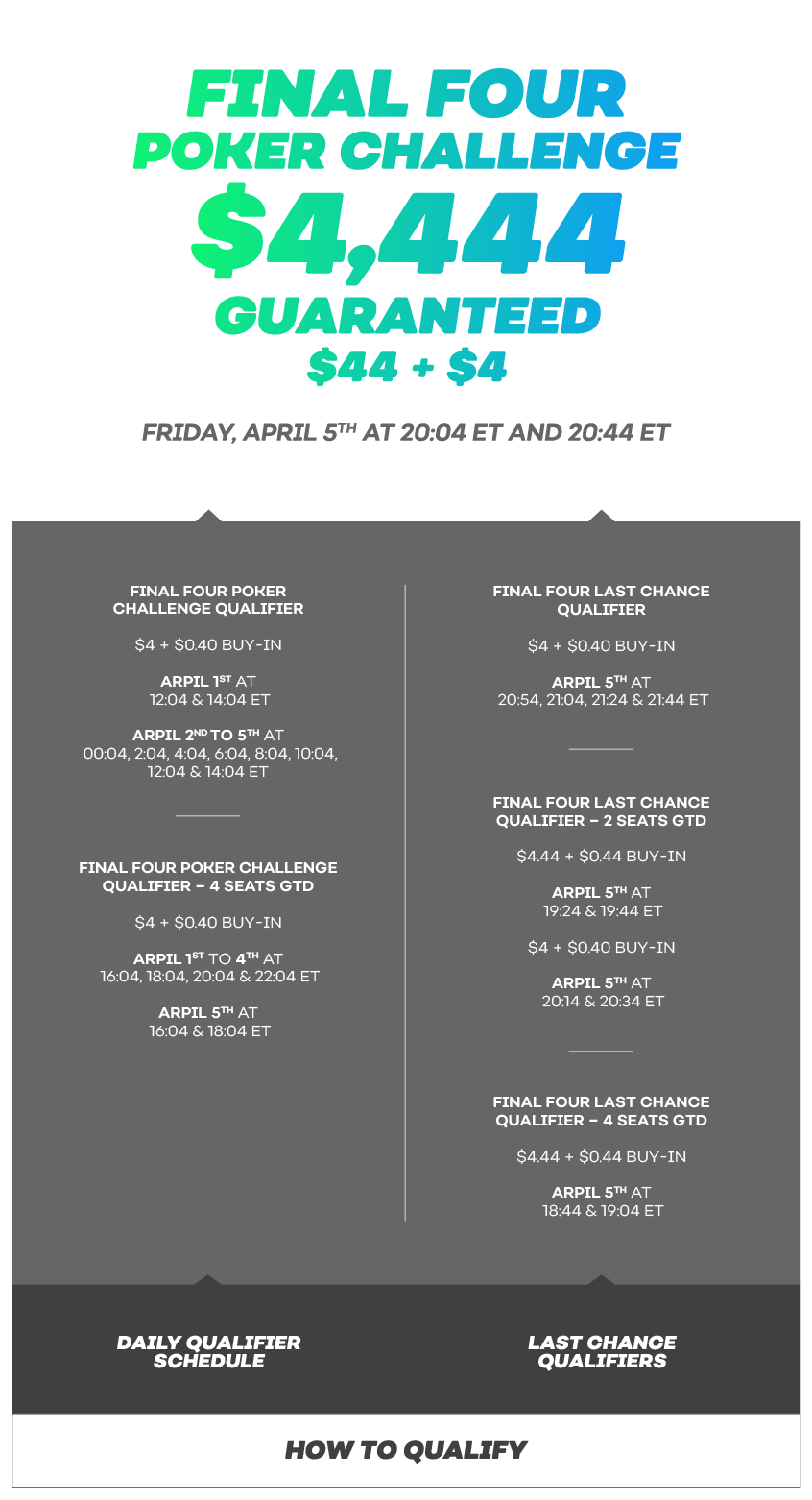 Terms & Conditions
Players can win up to 4 entries to the Final Four Poker Challenge $4,444 Gtd tournament in order to play all 4 events on April 5th.
In case a player qualifies more than 4 times for the $4,444 Gtd tournament, additional entries will be forfeited.
Tournament tickets cannot be used in any other tournament or exchanged for cash.
Players participating in the Final Four Poker Tournament named after the winning team will receive double their winnings value in the form of a bonus via email on April 9th. Qualifying players who did not earn any winnings but participated in the correct Final Four Poker Tournament will receive a $44 bonus via email on April 9th.
Bonuses subject to 1X Rollover in Sports / 1X Rollover in Casino / 5 Reward Point Earned in Poker. Standard terms apply.