Cash Out - Take Control
The Cash Out feature at Bovada allows you to take more control of your money, by cashing your bet out early.
Maybe you're ahead, or you just picked up some key info in the middle of a game and want to play it safe – in any case, you can use Cash Out.
WHY USE CASH OUT?
It's a great way to secure your money.
Say you've got money on a team to win, and with a few minutes to play they're ahead but not by much. So you would rather take some sure money now instead of waiting and potentially losing it all. Cash Out lets you bank the sure money right away. This is just one of the many reasons why it's a great feature to have when you need it most.
HOW IT WORKS
At any point while you have an active bet in play, you can decide to cash out. Your bet will be removed immediately, and a pro-rated amount of your projected winnings will be deposited into your account.
Step 1 - Check Availability
The Cash Out feature may not be available for every type of bet or sport, so check that it's available before placing your wager.
Step 2 – Click the Cash Out Button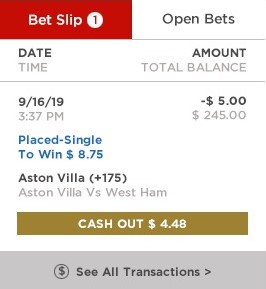 You'll see the Cash Out amount near the bottom of your screen. Clicking this will remove the bet from your account and the funds will be deposited to your account.
Step 3 – View Confirmation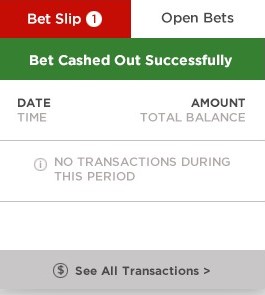 You'll see a message confirming that the Cash Out was successful.
MORE THINGS YOU SHOULD KNOW
Cash Out is available across many sports at Bovada, with more becoming available each week. If it's not yet available for the bets you want to place or markets you want to playin, keep checking our lines regularly.
The ability to Cash Out may be suspended in instances when a live line is no longer available.
You can cash out only the full amount of your original bet – no partial cash out is available.
Check out our Help section for more information.