2018 Golden Spade Poker Open

The Golden Spade Poker Open is back for another year at Bovada, and there's over $3.5 million in guaranteed cash prizes on the line over no less than 119 events.
This year, you can play each and every event of this year's GSPO direct from your mobile device, so you don't have to worry about missing the action when you're out and about. Simply visit our poker page from your cell phone or tablet to start playing.
Qualifiers for this year's GSPO have already kicked off and run all the way until the final day of the tournament on November 8th. You can qualify for the GSPO for as little as $1, giving you a shot at a huge payout for peanuts.
Official GSPO events get underway Saturday October 13th, and run until November 8th, with the showpiece event, the $350,000 GSPO Main Event, going down on Sunday November 4th.
During the GSPO, four of our scheduled Sunday $100,000 GTD and Sunday $75k High Roller events will be replaced with special $106,000 GTD ($150 + $12) and a $106,000 GTD High Roller ($300 + $25) events, on October 14th, October 21st, October 28th and November 4th.
How to Qualify for the Golden Spade Poker Open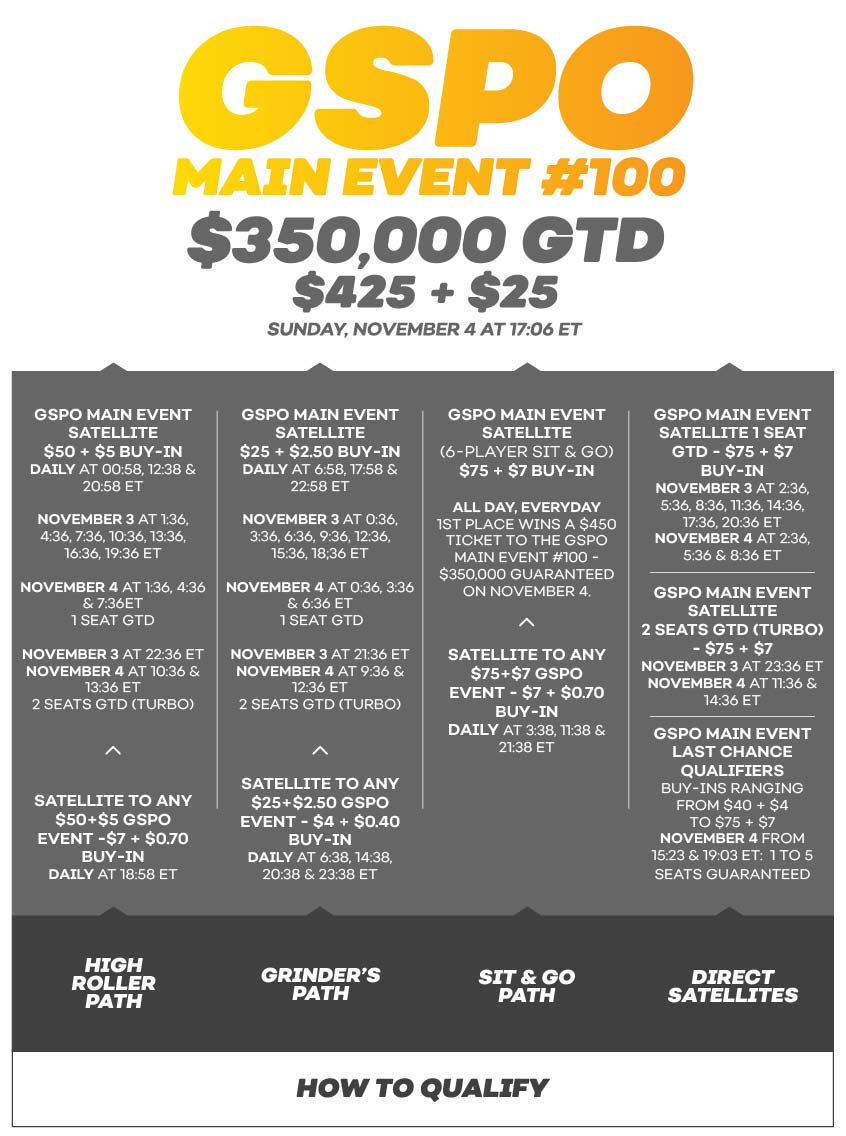 2018 Golden Spade Poker Open Main Event
Headlining GSPO's stellar event lineup of 119 official events is the $350,000 Main Event, going down on Sunday, November 4th at 5:06pm ET. Buy-in to the Main Event for $425 + $25 or qualify now for your shot at becoming a Bovada Poker legend.
Plus, on the same day as the Main Event there's also a GSPO Special $106,000 GTD Mini Main Event, which you can buy-in for $100 + $9, so mark your calendars for an unforgettable Sunday. Check out the complete tournament schedule in the Poker Software under the "GSPO 6" tab.
Terms & Conditions
Players can win only one entry to a single event.
In case a player qualifies several times into one tournament, additional entries will be forfeited.
Tournament tickets cannot be used in any other tournament or exchanged for cash.