What is rollover?
***For mBTC users – all references to USD will be calculated with the mBTC market equivalent***
Rollover is the total monetary amount of bets (aka handle) you need to place in order to cash out your bonus along with any winnings attached to that bonus. When it comes to Rollover, your wins and losses don't matter, each qualifying bet contributes to handle and the Rollover required.
Sportsbook Details:
Meeting Rollover in our Sportsbook is a tad different. For winning wagers we'll credit the lesser of the risk amount or win amount. If your bet loses, your risk amount contributes toward Rollover no matter what.
Casino Details:
There are also some games in the Casino that contribute differently to your requirement. Click the Terms and Conditions within the Bonus description to view the wagering contribution chart.
For full bonus details, including the Playthrough Requirement for your bonus, click the drop down menu or Bonus Description.
If the bonus you've claimed is a Deposit Match, the requirement is a multiplier of the Bonus + The Deposit Amount:
Ex. Deposit $100 + $100 Bonus = $200 X Rollover Multiplier (Varies by Bonus)
Learn how to meet the playthrough requirements on every bonus or promotion at Bovada by watching our short video tutorial. Or just follow the step-by-step instructions found below.
Here's how to check your Rollover/Playthrough Progress:
1. Once you log in, click the icon at the top of the page.



2. From the menu in your dashboard, click 'Rewards'.


3. Under Active Bonuses, you'll see your Playthrough Progress bar along with a percentage in green.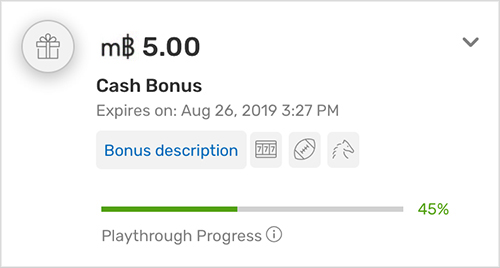 4. Hover over the information icon and you will see how much you still need to wager, and where, in order to meet the requirement.



Depending on the bonus you select, a combination of activity can help you achieve rollover even faster.
RELATED TOPICS:
Did you find what you were looking for?