Help
New Site FAQs
Sports FAQ
Casino FAQ
Poker FAQ
Horses FAQ
Bitcoin FAQ
Financial FAQ
Bonuses FAQ
General FAQ
Can I cancel my withdrawal?
You can cancel a withdrawal as long as it has not yet been processed to be sent to your address. You can also lower the requested amount once it has been approved.
Login to your account and click the silhouette icon at the top of the page; then click 'Withdraw'.




If your withdrawal is in a pending state and has yet to be approved, click 'Cancel Withdrawal' if available.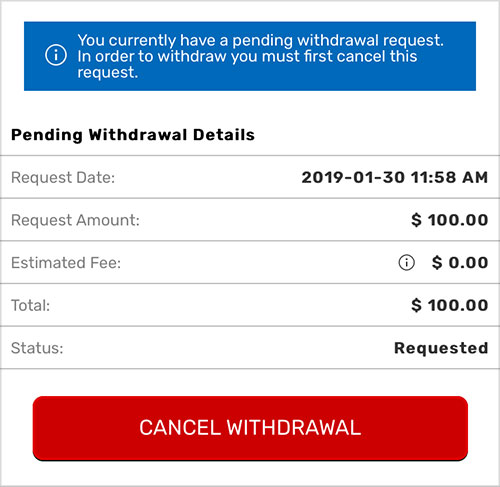 If your withdrawals has been approved but not sent, you can lower the amount by clicking 'Reducing Amount' if available.
If you encounter any problems, or have questions about your withdrawal request, just scroll to the bottom of this page. You can reach out by email or chat with one of our dedicated agents live. We're available 24/7.
Related Topics
What are the recommended Bitcoin wallets?