What is a Parlay?
A parlay, or combo bet, is a selection of 2-16 bets put together in one wager. Winning the parlay needs all of your individual selections to win. If any bet in your parlay is a loss, the entire wager is graded as a loss.
But if it hits, the payoff could reach six digits (depending on what you risk). When you add more bets to your parlay you increase your potential payout. Take a look at our NFL parlay betting video for more information. Let's look at an example from the NBA:
Let's say you like the Charlotte Hornets (+7.5) to keep the score within 8 against the Boston Celtics. You also like the Bulls, straight up against the Heat and the Mavericks to win by 7 or more against the Knicks.
Instead of placing three single bets, you could place a three-team parlay to increase your payday. If all games work out in your favor, you'll win even more with one wager than if you bet each game individually.
We created this short video tutorial to help show you how to place a parlay correctly. You can also follow the detailed step-by-step instructions found below.
How to Place a Parlay Bet:
1. Login to your Bovada account and click SPORTS at the top of the screen.


2. Select your sport from the menu. If you don't see your sport, click 'All Sports' to show more. By default, the page will only show open events or events that have odds available for betting.


3. Make your selections by clicking the boxes (up to a maximum of 16). Your selections will be added to the Bet Slip.


On your phone, the Bet Slip can be accessed by clicking the icon at the bottom of your window. On Desktop devices, it's located to the right of the betting lines.
NOTE: You can add point spreads, moneylines, totals, props and futures to the same parlay, but there may be restrictions when parlaying odds from the same event.
4. To place a Parlay bet, select the 'Multiples' Tab at the top of the Bet Slip.
You will see your combined odds for your Parlay displayed above your selections.

5. On the Bet Slip, you can then enter your risk amount in the box under the Parlay field.
6. Review your bet(s) and then click 'Place Bets' at the bottom of the Bet Slip.
7. You'll then be shown your final bet details along with your reference number. Click 'Continue Betting' to clear your bet slip and carry on.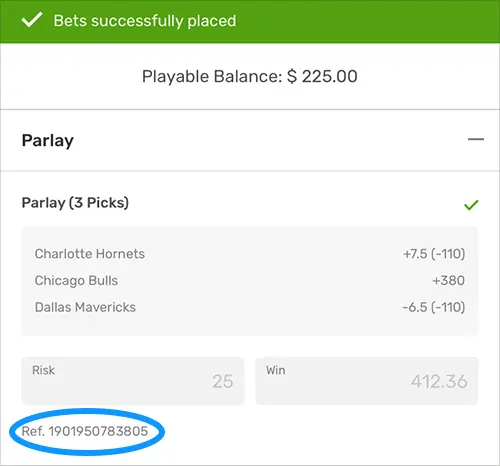 Parlay Rules
1. You must choose a minimum of two lines, up to a maximum of 16 to place a parlay.
2. A 'Push' reduces the number of selections in the parlay. For example:
A four-team parlay with two ties reduces to a two-team parlay. The payout is re-calculated based on the reduced number of teams.
A two-team parlay with one push reduces to a straight bet.
If a parlay reduces to zero teams, the bet will be graded "Push" and your risk amount will be refunded.
3. If any leg of your parlay has been graded 'NO ACTION', the parlay will reduce to the next number of teams in the wager. For example:
A three-team parlay with one bet 'No Action' will reduce to a two-team parlay.
A two-team parlay with one leg graded 'No Action' will become a single wager on the remaining team. The payout is re-calculated based on the reduced number of teams.
4. With the exception of pushes, all wagers must win for the parlay to be considered a win. If one wager loses, the entire parlay loses. There are no partial payouts.
5. You cannot include baseball five inning lines (5inn.) within the same game in parlays
6. You cannot include same game props in a parlay.
7. You cannot combine point spreads and/or moneylines for the same team from the same game, even if the lines are from different segments of the game.
8. You cannot combine 1H/2H and full game odds of the same line segment for the same event as those lines are correlated. Nevertheless, you can combine point spreads and/or moneylines for the full game with 1H totals of the same event and vice versa.
9. You cannot include both sides of the same bet type (point spread, moneyline, or total) from the same segment of the game.
10. You cannot combine alternate lines with any other market type within the same game.
Parlay Payouts
Our parlay payouts are based on "true odds", which depends on how many teams are chosen and the odds on those teams. If each pick of your parlay is a standard line (i.e., -110, where you must wager $110 to win $100), then the chart below will give you an approximate estimate of your payout:
| | |
| --- | --- |
| Parlay Size | Payouts |
| 2-Team | 2.645/1 |
| 3-Team | 5.958/1 |
| 4-Team | 12.28/1 |
| 5-Team | 24.36/1 |
| 6-Team | 47.41/1 |
| 7-Team | 91.42/1 |
| 8-Team | 175.4/1 |
| 9-Team | 335.9/1 |
| 10-Team | 642.1/1 |
| 11-Team | 1227/1 |
| 12-Team | 2343/1 |
| 13-Team | 4447/1 |
| 14-Team | 8451/1 |
| 15-Team | 16307/1 |
| 16-Team | 31132/1 |
IMPORTANT: Actual payout may be slightly more or less due to rounding.
To calculate your winnings, simply multiply the odds by your bet amount. For example:
Suppose you bet $10 on a two-team parlay where the odds of both picks are -110. You stand to win $26.45 ($10 x 2.645/1). Your total payout would be $36.45 (the $26.45 you won plus the $10 you wagered).
Parlays with moneylines or picks at off-standard prices (i.e., -105 or -115 etc.), you need to first find the multiplier for each pick in the parlay and then multiply your bet amount by the multipliers. For example:
Suppose you bet $10 on a two-team parlay where the odds of the two picks are -140 and +120.
| | |
| --- | --- |
| Moneyline | Multiplier |
| -140 | 1.71 |
| +120 | 2.20 |
Your total payout, which is your winnings plus your risk amount, calculates like so: 10 x 1.71 x 2.20 = $37.62.
*The maximum wager payout for the Bovada Sportsbook is $250,000. No wager payout will exceed this amount under any circumstances, including parlays.*
RELATED TOPICS:
Did you find what you were looking for?