UFC Betting

UFC 232 Betting: Jones vs. Gustafsson
The Octagon was a very different place five years ago. Jon "Bones" Jones was the UFC Light Heavyweight champion, and had yet to receive the first of three suspensions that have derailed his career. Alexander Gustafsson was the top contender in the division, riding a six-fight win streak into his first-ever title shot at UFC 165. Jones won that very competitive fight by unanimous decision; nothing has been the same since for either man.
Finally, after years of delays and setbacks, Jones and Gustafsson are due to meet again at UFC 232, live on pay-per-view from the T-Mobile Arena in Las Vegas on Saturday, December 29. It's the main event of what's shaping up to be an excellent card. UFC 232 fight odds are already available for the top two matches, with more to come as we get closer to bell time.
UFC 232 Odds: Jon Jones vs. Alexander Gustafsson
After all these two fighters have gone through the past five years, the Jones vs. Gustafsson odds for their rematch are just about the same as they were in 2013. Jones (22-1, 1 NC lifetime; 16-1, I NC UFC) is the –285 favorite at press time, with Gustafsson (18-4 lifetime, 10-4 UFC) available at +225. This is the first fight for Jones since July of last year, when his Light Heavyweight title win over Daniel Cormier was turned into a No Contest, following his latest failed USADA drug test.
Gustafsson hasn't run afoul of the authorities since his loss to Jones, but he's also had mixed results in the Octagon, going 3-2 with losses to Cormier and Anthony "Rumble" Johnson. However, Gustafsson came within an eyelash of taking the Light Heavyweight title from Cormier at UFC 192, losing by split decision, and he comes into Las Vegas after back-to-back victories over Jan Blachowicz and Glover Teixeira. A win over Jones would almost certainly give Gustafsson another crack at Cormier's title.
UFC 232 Odds: Cris Cyborg vs. Amanda Nunes
This is a special "champion vs. champion" bout between Cyborg (20-1, 1 NC lifetime; 5-0 UFC), who holds the Women's Featherweight title, and Nunes (16-4 lifetime, 9-1 UFC), the reigning Bantamweight champ. Only Cyborg's title will be up for grabs; the UFC 232 betting odds have her as the –280 favorite, with Nunes the underdog at +220.
Nunes is very much behind the 8-ball in this contest. The Featherweight division was essentially created for Cyborg, a 5-foot-8 mountain of testosterone who hasn't lost an MMA fight since her 2005 debut. Nunes has roughly the same height and reach, and is three years younger at age 30, but she doesn't have nearly as much muscle mass as Cyborg – arguably the greatest female fighter of all-time. Note: The one No Contest on Cyborg's record came in late 2011 after she tested positive for stanozolol.
UFC 232 Odds: Ilir Latifi vs. Corey Anderson
Although the remaining bouts on the UFC 232 card have yet to hit the MMA odds board, the Light Heavyweight match between Latifi (14-5, I NC lifetime; 7-3 UFC) and Anderson (11-4 lifetime, 8-4 UFC) is already drawing interest from fight fans. Latifi is Gustafsson's training partner, and a former champion on the Swedish indie circuit; Anderson won his division on The Ultimate Fighter 19 after wrestling in college at the Division III level. Expect Latifi to be the favorite once the UFC odds are released. They have a common recent opponent in Ovince Saint Preux, who defeated Anderson via head kick at UFC 217 before getting choked out by Latifi last February at UFC on Fox 28.
Other UFC 232 Betting Odds
You'll find plenty of familiar names on both the early preliminary card (UFC Fight Pass) and the "main" prelims featured on Fox Sports 1. Among the participants: Uriah Hall, BJ Penn, Cat Zingano, and Andrei Arlovski. Plus, there are two more fights on the main card, starting in the Featherweight division with Chad Mendes going up against Alexander Volkanovski. Later on, it will be Carlos Condit taking on Michael Chiesa in Welterweight action – then the two title fights to wrap up the final UFC card for 2018. As always, stay tuned to Bovada Sportsbook for the full menu of UFC 232 prop bets and other lines as this card continues to take shape, and enjoy the fights.
How to Bet on the UFC: UFC Betting Explained
There was a time when boxing was the biggest combat sport in the world. These days, more people are betting on mixed martial arts – especially when it's the Ultimate Fighting Championship (UFC) putting on the show. This promotion has skyrocketed since its first pay-per-view card in 1993, back when it was no holds barred; new rules and regulations have turned the UFC into a sweet science all its own, allowing the company to spread across the globe. This UFC Betting 101 introduction will show you how to bet on MMA at Bovada Sportsbook, from basic wagers to simple strategies you can use to knock out your competition.
Betting on the UFC
The UFC holds dozens of events every year, with somewhere around a dozen fights on every card. The major events are pay-per-views, and smaller shows are aired on cable television and UFC Fight Pass; each card will feature a main event, often a title fight for one of the promotion's 12 weight divisions, as well as a co-main event. Here are the different ways you can get in on the UFC betting action:
UFC Moneyline Betting
This has been the standard way to bet on combat sports for well over a century. UFC moneyline odds are a form of fixed-odds betting, where you choose one of the two fighters to win straight-up, no point spread attached. In North America, these odds are typically expressed using the American odds format. To better understand exactly what are UFC moneyline odds, let's look at the famous August 2016 Welterweight rematch between Conor McGregor and Nate Diaz at UFC 202:

Diaz +120
McGregor –150
Unless it's a pick'em, every fight has a favorite and an underdog. The favorite will always have a negative sign next to their MMA odds; in this matchup, McGregor was the –150 favorite, paying out $100 for every $150 wagered (smaller and larger bets are allowed). The underdog usually has a positive sign next to their odds, although that's not always the case with two closely matched opponents. In this fight, Diaz was the +120 underdog, paying out $120 for every $100 wagered.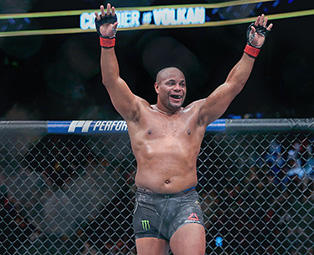 UFC Parlay Betting
A parlay bet is a combination bet that lets you group together a number of individual moneyline wagers. If you get all your picks right, your payout increases exponentially, but if you get a single pick wrong, the parlay loses. You can put anywhere between two and 12 moneyline bets in your UFC parlays. The more lines you add, the higher the potential payout. So how do UFC parlay bets work? Let's say you wanted to combine the McGregor-Diaz fight at UFC 202 with the co-main event, a Light Heavyweight bout between Anthony "Rumble" Johnson and Glover Teixeira:

Teixeira +175
Johnson –225

Here, Johnson was the –225 favorite, while Teixeira was the +175 underdog. If you parlayed Johnson together with McGregor, congratulations: Both favorites won their fights. Betting $50 on each of them separately would have earned you $44.44 in profit, but since you parlayed them instead, you earned $140.74. You can calculate your potential payouts by multiplying the odds for each fight in your parlay, either by hand or with an online parlay calculator. Even better, Bovada Sportsbook will do the math for you when you're filling out your bet slip.
UFC Futures Betting
If you've been stumped trying to figure out just what is a UFC futures bet, we've got you covered. In general, the UFC odds for each card will be made available well in advance, but every once in a while, speculative odds will be published for a fight that may or may not take place in the future. This can happen when two really big-name fighters appear to be on a collision course. If there's enough interest in their potential fight, UFC futures odds will go up on the board. You'll find them under "UFC Futures" when you open the UFC menu at Bovada Sportsbook.
Betting on UFC futures looks exactly the same as betting on the moneyline. There will be a favorite and an underdog, and the odds for each fighter will adjust depending on how much action they draw. Once their prospective fight is made official, those odds will be taken off the UFC futures board and put on the regular market.
UFC Prop Betting
Aside from the moneyline, UFC prop bets (short for proposition bets) are the most popular way to bet on MMA's most popular promotion. Rather than picking a straight-up winner, UFC props ask you to wager on things like method of victory (KO/TKO/DQ, submission or decision), and whether the fight will go OVER or UNDER a certain number of rounds.
Much like the Super Bowl, betting on UFC props can be both fun and profitable. The more popular the fight, the more props you'll have at your disposal; you might be able to bet on whether a fighter will win during a specific round, or whether they'll win by unanimous decision. Don't forget to look for these props anytime you're considering a bet on the UFC.
UFC Betting Tips
Think you know your way around the Octagon better than most people? If you've been following the sport for some time, you've probably developed a solid base of knowledge that can help you beat the UFC odds. But even if you're betting on MMA for the first time, you can gain an advantage by remembering two simple rules of thumb:
1. Styles make fights. Every UFC fighter comes from a certain MMA background. Brazilian jiu-jitsu is common, but a well-rounded practitioner will bring other martial arts to the table, be it wrestling, boxing, karate, Muay Thai, sambo, judo, or other forms. Ideally, your chosen fighter will be strong in the two basic elements of MMA: striking, and grappling. They'll also be strong on both offense and defense. If you see a fighter who's gifted at ground-and-pound going up against someone who isn't skilled at defending from underneath, that's a mismatch that you can take advantage of.
2. The bigger they are, the harder they fall. There are 12 different weight classes in the UFC: eight male, and four female. The lightest division is Women's Strawweight (up to 115 pounds), and the heaviest is Heavyweight (male, 206-265 pounds). As a rule, the lighter divisions have more of their fights end in decision, while the heavier classes will see more knockouts. You can use this knowledge, combined with the styles and past records of each fighter, to take advantage of the UFC props. For example, a Women's Strawweight bout will end in a decision roughly 70% of the time; put two defensive strikers in the Octagon together, and a decision becomes even more likely.
Because the UFC has become so popular, detailed biographies of most fighters are available on the internet, showing their MMA backgrounds, which belts they've been awarded, and the results for all their previous fights – both in MMA and other combat sports. A little research will go a long way in helping you make sharper UFC picks. In the meantime, you now have everything you need to get started betting on the UFC. For more information, check out the FAQ and Help guide at Bovada Sportsbook, and feel free to contact Customer Service if you need further assistance.
*Odds as of November 8, 2018