What is a Single Bet?
A single bet (sometimes called a straight bet) is a wager on the outcome of a single event or game. Based on the odds you choose, either the outright winner, the point spread, or the combined scores of both teams determines a winning bet. Your payout is determined by the odds posted at the time the bet is placed.
Quickslip function:
On your Mobile device, you can place single bets more easily while browsing our lines in the Sportsbook. Simply select your bet, enter the RISK or WIN amount, then click the checkmark to confirm. Parlays, teasers and other complex bet types must be placed on the traditional bet slip.
How to Place a Single Bet:

1. Log in to your Bovada account and click SPORTS at the top of the screen.


2. Pick your sport from the menu - click 'All Sports' to show more. By default, the page will only show open events or those that have lines available for betting.




3. Select your line by clicking the appropriate box with the odds. Your selection will be added to the Bet Slip.



On your phone, the Bet Slip can be accessed by clicking the icon at the bottom of your window. On Desktop devices, it's located to the right of the betting lines.

Note: For singles bets or to place multiple single bets at once, ensure the Singles Tab is selected at the top of the Bet Slip

4. On the Bet Slip, enter either a Risk or Win amount in the box provided. The total Win or Risk amount is calculated for you.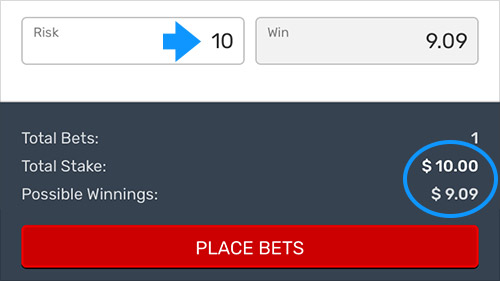 5. Review the details of your single bet. If you're happy with your selection, proceed by clicking 'Place Bets'. You will be shown a confirmation screen including your wager reference number.


6. Click 'Continue Betting' to clear the bet slip and carry on.
Placing Multiple Single Bets:
You can place up to 20 straight bets simultaneously. The bets can be from the same or different sports, leagues, or portions of the game and the wager amounts can be the same or different for each bet. You can plan out your whole betting day in just one click!
RELATED TOPICS:
Did you find what you were looking for?