How does the Cash Out feature work?
What is Cash Out?
Cash Out in our Sportsbook allows you to immediately take a guaranteed payout in exchange for closing your bet before it's settled.
The Cash Out feature is only available for Singles and Parlays at this time. They can be identified in your Bet Slip with a notification below the Risk and Win fields.

Cash Out is available for both pre-game and live as it eliminates the chance a bet will return nothing.
Your Cash Out amount is calculated based on the current odds and is subject to change depending on when you choose to cash out.
How do I Cash Out my bet?
1. Click the Open Bets tab on your Bet Slip.

2. Locate the wager you'd like to Cash Out. Eligible wagers are clearly indicated with the Cash Out button, including the Cash Out amount. These amounts are updated automatically.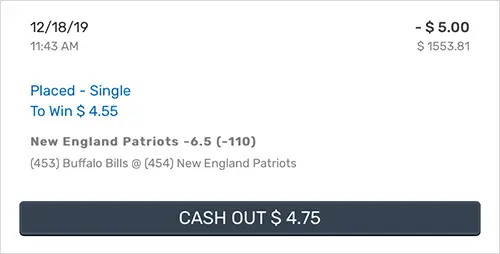 3. Select 'Cash Out' and the amount indicated will be returned to your account balance. The cashed-out bet is then removed from your Open Bets.
To view a history of your cashed out bets, click the link to See All Transactions at the bottom of the window:

Bets that have been cashed out are listed under the Cash Out tab under Sports.

Important Reminders:
Cash Out is not available for all events or wager types.
On markets where Cash Out feature is offered before the event starts - full Cash Out will be available, provided the line has not changed.
Should you choose the Cash Out option - the lesser of the amount risked or won will

NOT

contribute to the completion of your rollover requirement.
The ability to Cash Out a wager on a spread or total will be dependent on the availability of an equivalent line with the same point spread/total on the game.

Ex. If your wager is on the Cowboys -4, the Cash Out option will only be available if the main line or an alternate line is also available at -4, pre-match or live in-play.

The ability to Cash Out may be suspended in instances when a live line is no longer available.
Any Parlays including a quarter-ball line will not have a Cash Out option available.
Players can Cash Out after one or more of their parlay selections have already won.
Players can Cash Out if any of the Parlay selections are voided as Push
Cash Out funds will be returned proportionally to the account balance from where they were used when placing your wager.
All general sports betting rules still apply.
RELATED TOPICS:
Did you find what you were looking for?